IMAGINATION
First, it must be said that the day the Rare Bird staff discovered they'd be creating a website for an adult beverage company (and a really cool one at that) well, a fair amount of hoopin' and hollerin' went on. It was like bringing LeBron James to a 13-year-old boy's birthday party. Or, pick an age.
If presents had legs, then the day Garden Party Botanical Hard Soda arrived it was like a gift walked in the door. The product? An all-new entry into the wildly popular hard soda beverage industry. "The softer side of hard sodas" as inventor Erin Edds put it.
Erin's extensive background in creating original, fresh products had her perfectly placed to let her imagination run wild when she came up with this product. Her partner in life and business, Stephen Edds, had some pretty wild ideas, too. It was all very exciting.
And then it was our turn to fire up the ol' imagination machine and create a website worthy of their product and their vision. Sounded like a good time for a drink.
"When you create a product and have put your heart and soul, energy and creativity into it, you're pretty protective of how it's handled. So it was with a little trepidation that we showed up at Rare Bird with our baby, so to speak, and our push-the-envelope, hand-gesturing, excitable thoughts… and they completely got it! Rare Bird's imagination matched ours, and the result is a website that is beyond even our wildest dreams. And that's sayin' something!"
ERIN EDDS | GARDEN PARTY BOTANICAL HARD SODA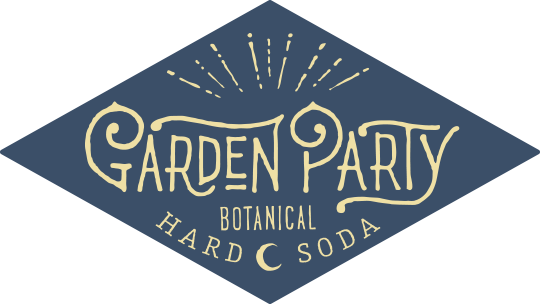 IMAGINE TURNING THE WORLD UPSIDE DOWN.
First things first. Before digging into the full site, we put together a splash page and a video. This allowed the Edds to talk with potential investors and others about their upcoming launch with tools to represent their product more professionally than hand gesturing and excitable thoughts.

When it came to the actual site, the Edds had this vision of an Alice in Wonderlandesque experience. Jules Verne. Monty Python, without the killer bunnies.

We got right to work on copy (the Edds's edict: "don't be afraid to be cheeky") and graphic elements. As this fantastic world of garden parties came about, featuring their debut beverages, Ruby and Violet, we started to get a titch stuck. How would we keep this fantastical world working without being repetitive?

We decided to turn it upside down.

The copy reflected this idea of a world where anything is possible. The graphic design perfectly embodied the concept as well, and when it came to building the site, we brought out all the bells and whistles. Stars move as the page employs parallax scrolling to make the experience as smooth and seamless as a gnome's behind. The garden party movie, played out on a sheet strung between trees, makes you feel like you're right there in a fantastical world.

On the practical side, the map feature allows users to easily locate where to purchase Garden Party products. The site is, of course, responsive, so locating stores or restaurants that stock Garden Party is easily accomplished on the go.