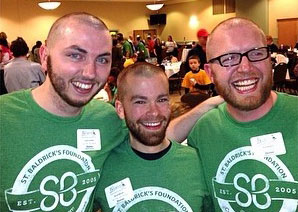 "It's just hair."
Remember when you were a kid, and you got a bad haircut? Probably some time in junior high when things like this started to really matter. You cried all the way home until your mom or dad likely said to you, "It's just hair. It'll grow back."
Tragically, there are kids out there who are dealing with a lot more than a bad haircut. That's why the work being done by the St. Baldrick's Foundation is so incredibly important. Started in 2000 by three dudes who simply wanted to give back, by 2012 the foundation had donated $100 million for childhood cancer research.
Their signature fundraising event goes back to their roots (so to speak). Since 2000, more than 230,000 people have become "Shavees" at head-shaving events all around the country. Shavees ask their family, friends and colleagues to make a donation to support St. Baldrick's, while they make an even bigger donation — their entire head of hair!
Our own Brad Meiser (pictured in the center, above) will have his head shaved today in support of children with cancer. This is the fifth year Brad has participated, and we couldn't be prouder. In fact, this year we decided it wasn't enough to sit back and just support him with our donations and pats on the back. We needed to step up our game.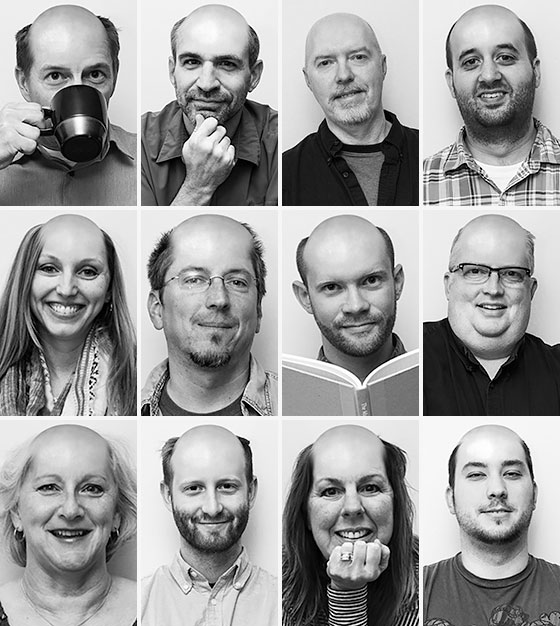 As you can see, everything around here is a real team effort. Stay tuned for Rare Bird baseball caps, coming not a moment too soon!
If you'd like to donate to Brad's team and support cancer research, it's not too late. And if you'd like to vote for your favorite Bald Bird, please let us know! (For the record, one Bird's photo needed no retouching — bonus points if you can tell which one!)